10/25/14 (UPDATE):
Found a link to the mini trailer!!!
YouTube blocked it though....due to sound copyright.

Boo....
BUT!
Hit the source link below to see the trailer, as well as other info!

It looks all the more promising now!!!! Cannot, cannot wait~!!!!!!!! >U<
The Night Juicer: <3 mins




Treasures in a Bottle: 8 mins




Occupational Hazards: 13 mins



Spoiler-ish Commentaries:

Olimar is seen in another short (3rd one) besides the first.

There are purple and white Pikmin!

Fiery Blowhog is seen animated for the first time.

Dat poor Red got his nose scrunched! XD;;;



I'm shaking, pfffffff! It'll come to the 3DS eventually.
10/24/14:

(No, no video link or anything - I WISH!) Hah....little rant time. :b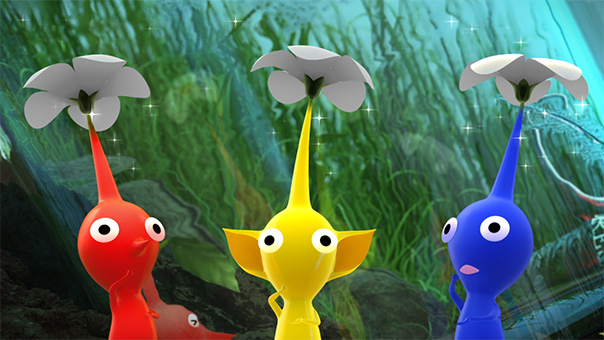 Darn it, I can't update/edit my old journal.
But murg,
I'm going to go cry in the corner now.
In less than 6 hours from now, Miyamoto will host a talk and air those little animated Pikmin shorts in Japan.
At least, I found a few interesting things:
The "movie" is about 23 minutes long
. That makes it roughly 7-8 mins per story segment. Hmm, how can you stretch the "Night Juicer" to be that long? I can't imagine the Captain taking a full 5+ minutes to make juice.

Unless, all three story parts aren't equally long, which would indicate....aw boo less Olimar. :C
Then again, it all doesn't matter anyway, since I can't watch anything regardless. XD;; There's no stream for it,
except one
which requires payment, AND besides they don't even cover everything at the show, much less what I'm targeting, (Ah, btw, Big Hero 6 looks kinda interesting.)
Uwah, how I wish and wish for a kind soul in Japan to somehow showcase these. At least a few more pictures, but even better
THINK ABOUT RELEASING OUTSIDE, NINTENDO!
.........
I may be overhyping myself.....maybe it's actually bad? Like those god-awful Safari blurbs and Wind Waker Shorts.....D: Because to be frankly honest the apparent screenshot below looks...umm...kinda
less polished
compared to what we've seen in the game AND the commercials. Is it just me? :I
The far top picture looks fine though, but this one here, I don't know....Still wish it'll get enough positive reaction and inspire Nintendo to do more animations in other franchises as well.
In other news......yesterday's Smash Brothers U Direct, HOLY COW,
8-PLAYERS AT ONCE!
? *Looks around*.......*crickets*.....FML,
I don't have LOCAL PLAYERS
!!!!!!!!
Sigh, I miss those times of being able to play with family or friends around. I shall smash on alone.